Ultimate River Cruise
15-DAYS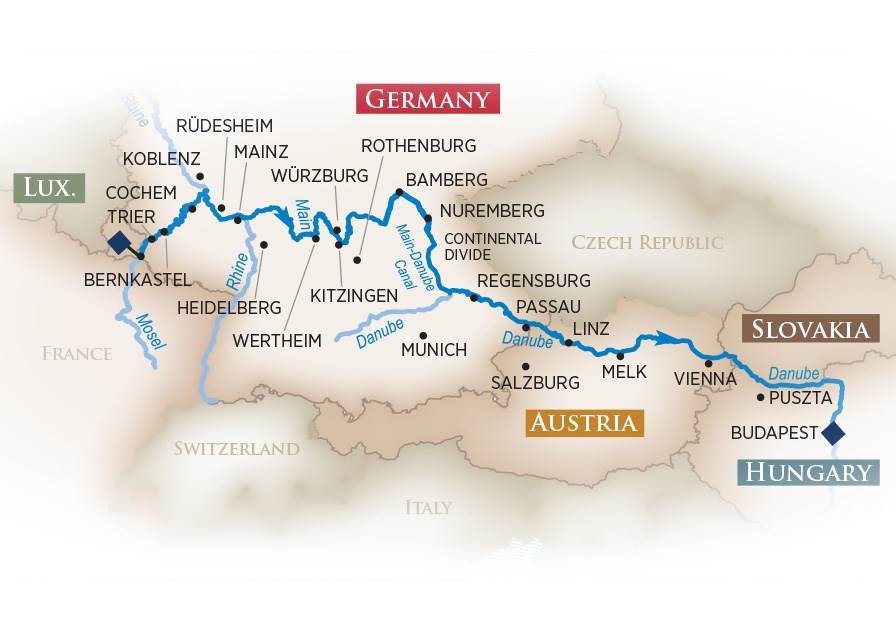 CRUISE FROM : Luxembourg to Budapest
This cruise along the legendary rivers of Europe showcases a number of cultural and scenic highlights in Luxembourg, Hungary, Slovakia, Austria and Germany. Begin your river cruise vacation in beautiful Luxembourg. You will experience three grand old capitals – Budapest, Bratislava and Vienna – interspersed with charming towns, steeply terraced hillside vineyards, ancient fortresses and spectacular vistas. Sail through the lush Mosel River Valley, discover the most scenic portion of the Rhine, famous for its historic castles and incredible wine, and gaze upon medieval cities that line the Main and Danube rivers. Conclude your journey in Budapest.

COUNTRIES: Austria, Germany, Hungary, Luxembourg, Romania, Slovakia
RIVERS: Danube, Main, Moselle, Rhine
ITINERARY
Day 1 :
EMBARKATION – LUXEMBOURG
Board your cruise in Luxembourg. Tonight, you will meet your fellow passengers at the Welcome Dinner. (D)
Day 2 :
TRIER, GERMANY – BERNKASTEL
After breakfast enjoy a guided walking tour of Trier, Germany's oldest city with a rich Roman past. You will see Trier Cathedral, the Basilica of Constantine and the Porta Nigra gate that dates back to 179 A.D. Continue on to Bernkastel, strategically located in the middle of the Mosel Valley's wine-producing region, an area that's been cultivating wine for over 500 years. A guided walking tour through the old town center this afternoon will take you past many medieval and Renaissance buildings. You will also enjoy a winery visit and sample several regional vintages. Your ship departs later this evening and cruises overnight. (B,L,D)
Day 3 :
KOBLENZ – RHINE RIVER GORGE – RÜDESHEIM
Today, enjoy a guided tour of Cochem that takes you to the spectacular hilltop Reichsburg Castle, offering fantastic views of the river valley below. Or, opt to take a walking tour of Koblenz and explore its charming town square and quaint shops. Return to the ship for a scenic afternoon cruise along the most beautiful stretch of the Rhine, with castle ruins, fortresses and the legendary Lorelei Rock. We arrive in Rüdesheim this evening and visit Siegfried's Mechanical Musical Instrument Museum, or you may choose to join us for some Rüdesheimer Coffee. The ship moors overnight in Rüdesheim. (B,L,D)
Day 4 :
MAINZ – HEIDELBERG
This morning, depart Rüdesheim and cruise to beautiful Mainz, arriving after lunch. Your guided walking tour includes a visit to the Gutenberg Museum, home to two copies of the world's first printed Bible as well as centuries-old manuscripts and printing presses. You may also choose to see the famed Chagall windows, which depict scriptural scenes in stunning blue. As an alternative to Mainz, you can travel by motor coach to Heidelberg, Germany's oldest university town, where you will take a tour of the old town, visit the red-walled castle with its Great Vat (a 49,000-gallon wine cask) and enjoy beautiful views of the Neckar Valley and the city below. Later this afternoon, the ship departs Mainz and cruises overnight to Wertheim. (B,L,D)
Day 5 :
WERTHEIM
Welcome to Wertheim, a quaint German town known for its intricate glassworks and charming medieval architecture. You have your choice of one of three excursions today. Enjoy a guided walking tour of the historic city center, a scenic guided bike tour along the Main River, or a visit to local bakery for a pretzel-making demonstration and tasting. Your ship cruises to Würzburg this evening. (B,L,D)
Day 6 :
WÜRZBURG – KITZINGEN
This morning's guided tour of Würzburg will show you all of the city's major sights, or you may prefer to visit the Residenz Palace and gardens, a designated UNESCO World Heritage Site. The next stop is Kitzingen this afternoon where the town's Historic Court Council and honorary Wine Queen will escort you to one of Germany's oldest wine cellars to sample regional wines. You may either cruise to Kitzingen, or get there via a guided bike ride through the Franconian countryside. Later tonight, the ship sails towards Bamberg. (B,L,D)
Day 7 :
BAMBERG
Arrive this afternoon in enchanting Bamberg, a UNESCO World Heritage Site, where you will have one of three ways to explore. The first is a guided walking tour of this medieval gem to see its cathedral, Old Town Hall and elegant old mansions, as well as sample some of Bamberg's famous smoked beer. The second is a guided bike tour along the Main River and the third is a Bamberg Specialties tasting where you will enjoy smoked beer, licorice root and Hornla, a local favorite whose recipe dates back to 1427. This evening, we continue cruising towards Nuremberg. (B,L,D)
Day 8 :
NUREMBERG, GERMANY – MUNICH
Today you will travel by train from Nuremberg to Munich, the capital of Bavaria and one of Germany's largest cities. You will have an orientation walk upon arrival, and then your guide will offer suggestions on what to see during your free time in town and will take you to lunch in a local restaurant. Afterwards, you will enjoy a panoramic tour of this vibrant city. Back on board the ship tonight, you will meet new guests arriving from Prague. (B,L,D)
Day 9 :
NUREMBERG – CONTINENTAL DIVIDE
You have two excursion options today. Take a tour of the city's medieval highlights, including Nuremberg Castle, the 900-year-old ramparts surrounding the city, Town Hall, Notre Dame and the house of artist Albrecht Dürer, or join a WWII tour and see the Coliseum, Nazi Parade Ground and Justice Palace. Later, the ship cruises the Main-Danube Canal to Regensburg. (B,L,D)
Day 10 :
REGENSBURG
This morning's scenic cruising brings you into the final stretch of the Main-Danube Canal en route to Regensburg, one of Germany's best preserved medieval cities. A guided walking tour will show you the city's architectural highlights, including the Old Town Hall and the Porta Praetoria, gates to an ancient Roman fort built in 179 A.D. (B,L,D)
Day 11 :
PASSAU – LINZ, AUSTRIA
After breakfast, arrive in picturesque Passau, where the Inn and Ilz rivers flow into the Danube. You will have a choice of a walking tour of Passau's Old Town, past the old city fortifications, Rathaus, Domplatz and Residenzplatz town squares, as well as St. Stephen's Cathedral, or more active guests may join either a guided bike tour from Passau to Erlau or a guided hike up to the Veste Oberhaus fortress overlooking Passau. Return to the ship this afternoon for a scenic cruise to Linz, Austria's third largest city and a major river port. (B,L,D)
Day 12 :
MELK – VIENNA
Early this morning, we cruise to Melk. You have a choice between a guided tour of Melk's magnificent Benedictine Abbey, a UNESCO World Heritage Site and one of Europe's largest and most revered monasteries, or a guided bike tour along the Danube. Return to the ship for lunch before cruising on through the scenic Wachau Valley. Arrive in Vienna after dinner and explore the magnificent Austrian capital on your own. (B,L,D)
Day 13 :
VIENNA
This morning, you will have a chance to savor the Baroque elegance of romantic Vienna through your choice of one of three different excursions. The first option is a panoramic tour of Vienna that guides you past the majestic Opera House, the former Imperial Palace of the Habsburg Emperors, Parliament, Town Hall and Vienna University. Afterwards, you will visit Vienna's historic city center, a UNESCO World Heritage Site, and see St. Stephen's Cathedral, Graben and the world famous Spanish Riding School. The second option is a walking tour of Vienna's hidden treasures that takes you to secret places and sights like Ankeruhr, a whimsical Art Nouveau clock. Your third option is a guided bike tour along the Danube and through the Donaupark. This afternoon, you can join a guided bike ride to Klosterneuburg Monastery, or explore at your leisure. Be sure to sample some Viennese coffee and pastries. (B,L,D)
Day 14 :
BUDAPEST, HUNGARY
Your morning excursion includes sightseeing in the cities of Buda and Pest spread over both banks of the river. You will see famed Heroes' Square and Castle Hill, home to Fisherman's Bastion, Matthias Church and spectacular views of the Danube. Alternatively, you may join a guided hike up to Budapest Castle Hill. After dinner, the ship will sail a special Illuminations Cruise past the city's glittering riverfront. (B,L,D)
Day 15 :
BUDAPEST – DISEMBARKATION
This morning, bid farewell to your cruise ship. (B)
(B - breakfast, L - lunch, D - dinner)
INCLUDED IN THE TOUR
SPACIOUS STATEROOMS
14 nights luxury accommodation in an outside stateroom (most with French balconies)
Computer for internet access
Entertainment on Demand system featuring, movies, TV shows, news and music
Desk and sitting area
Bottled water replenished daily
AN ARRAY OF AMENITIES
Personalized service from a highly trained Cruise Manager during both cruise and land programs
Internet and Wi-Fi access
Sun deck whirlpool and walking track
Fitness room, massage services and hair salon
Main Lounge with panoramic views and bar
Daily entertainment including cultural performances
AWARD-WINNING DINING
All onboard dining in a variety of venues
Regionally inspired cuisine made with locally sourced ingredients
The Chef's Table specialty restaurant
Captain's Welcome Cocktail and Dinner
La Chaîne des Rôtisseurs exclusive dining experience
Unlimited fine wine, beer and soft drinks with lunch and dinner
Unlimited sparkling wine and fresh juice with breakfast
Tapas, sandwiches, snacks and refreshments served daily in the Main Lounge
A WORLD OF EXPLORATION
Immersive tours in every destination
Gentle, regular, active and late-riser tour options
Bike tours and hikes
Limited Edition Tours
Knowledgeable guides
Personal headset for easy exploration
Airport transfers with purchase of air from AmaWaterways
NOT INCLUDED
Gratuities for guides & cruise personnel
Transatlantic air-fare (can be arranged by UET from any US city)
Items of personal nature & items not listed in the itinerary


Port charges
TOUR PRICES & DEPARTURE DATES:

2017 SAILINGS
DEP USA CANADA
START CITY
EMBARK DATE
SHIP NAME
EMBARK CITY
CHECK-IN
PRICES
Jun 7
Budapest
Jun 8
AmaDante
Remich
Jun 6
$6,698
Jun 21
Luxembourg
Jun 22
AmaDante
Budapest
Jun 19
$6,698
Aug 16
Budapest
Aug 17
AmaDante
Remich
Aug 15
$6,698
Aug 30
Luxembourg
Aug 31
AmaDante
Budapest
Aug 28
$6,698
Sep 13
Budapest
Sep 14
AmaDante
Remich
Sep 12
$7,098
Sep 27
Luxembourg
Sep 28
AmaDante
Budapest
Sep 25
$7,098
Oct 11
Budapest
Oct 12
AmaDante
Remich
Oct 10
$6,598
Oct 25
Luxembourg
Oct 26
AmaDante
Budapest
Oct 23
$5,998
CABIN UPGRADES PER PERSON
CATEGORY
DECK
STATEROOM
ADDITIONAL
E
Piano
Fixed Windows
Base Price
D
Piano
Fixed Windows
+$598
C
Violin & Cello
French Balcony
+$1,798
B
Violin & Cello
French Balcony
+$2,198
A
Violin
French Balcony
+$2,398
A+
Violin
French Balcony
+$4,398
Suite
Violin
French Balcony
+$4,798

Note:

Important: Dates, prices & itineraries are subject to change.
Port Charges: $336 per person.
Single Supplement for Cruise: 50% of twin price; Suites 100% of twin price. Please see terms below for details.
Single Supplement for Land: $800 per person.
Bedding: Please select bedding configuration at the time of booking. The Options are: Option A: Two twin beds Option B: One large bed (larger than queen size).
Click to view details:
The brand new fleet of AMA-WATERWAYS ships are setting new standards in European river cruising and offer a number of features not found on other European river cruise ships. Clients will enjoy the luxury of more space, 2 panorama lounges, Fitness Center, Massage and Beauty Salon. There are 25 bicycles on board for you to explore the small towns and to ride on the many bicycle paths along the various rivers. The ships operate for the English speaking market only.